Sizing for Opera Campi Studio
Shipping
Shipping Costs 
|   | Free Shipping | Shipping Cost | Shipping Time | Exchange & Refund |
| --- | --- | --- | --- | --- |
| Italy | Over € 100 | € 5.90  | 2 workdays | Free for 14 days |
| European Union | Over € 150 | € 9.00 | 3-5 workdays | Free for 14 days |
| USA & Canada* | Over € 250 | € 24.00 | 3-5 workdays | € 20 + 20% order value |
| Rest of the World* | Over € 250 | From € 24.00 | 5-7 workdays | € 20 + 25% order value |
Please note: 
* You might pay duties depending on your country, if you're outside the European Union;
Products are shipped directly from our laboratories in Parma, Italy;
We use the following couriers: DHL, Poste Italiane or GLS depending on destination country;
Exchanges and returns are possible within 14 days from delivery date
Remember:
We have the lowest rate of returns and exchanges. We love to help you in sizing, so please write us at casa@operacampi.com if you have any doubt and if you want to reduce the risk of exchange.
The Opera Campi Studio is a small space in a rustic setting just outside Parma. It's not only our headquarters but also the place where you can touch every one of our fabrics, unique in the world. You can:
try out our products
feel the centuries-old hemp skeins from the 1700s
discover the curious history of the brand
see the American hemp sheets from World War II
learn about the differences between high-quality hemp fabric and traditional hemp fabric
The visit lasts about half an hour
the cost can be used as a voucher for purchasing a product on-site
The massive impact

-5 kg


NET CO2 EMISSIONS

About less than the similar product you have in your wardrobe, or avoided with a diesel car.
Details about these numbers
Opera Campi has a massive impact on the planet, with each product.
We show detailed data about emissions, based on independent and authoritative studies. We kept the highest hypothesis regarding emissions, and most prudent ones when it comes to carbon sequestration. For example, for distribution costs we simulated emissions for shipment from Parma (Italy) to Los Angeles (USA), while most of our deliveries are made in Europe.
Specs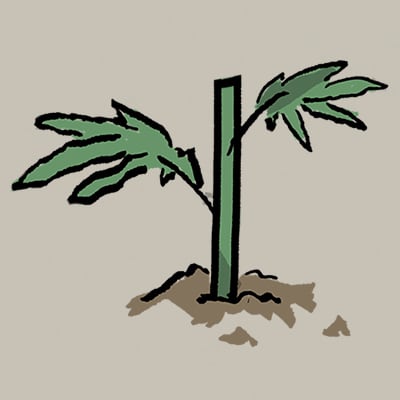 Plant Index
Plant Index is a rating from 1 to 10 given by Opera Campi to the plants quality used for this product's fabric. Higher the rating, cleaner is the texture of the fabric. Since we only choose the finest yarns, the index mostly depends on the season. Like a wine or any natural product, a good growing season influences positively the quality of the final product. We avoid chemical corrections on the fibre, we prefer transparency and our customers accept imperfection caused by nature.
The Material